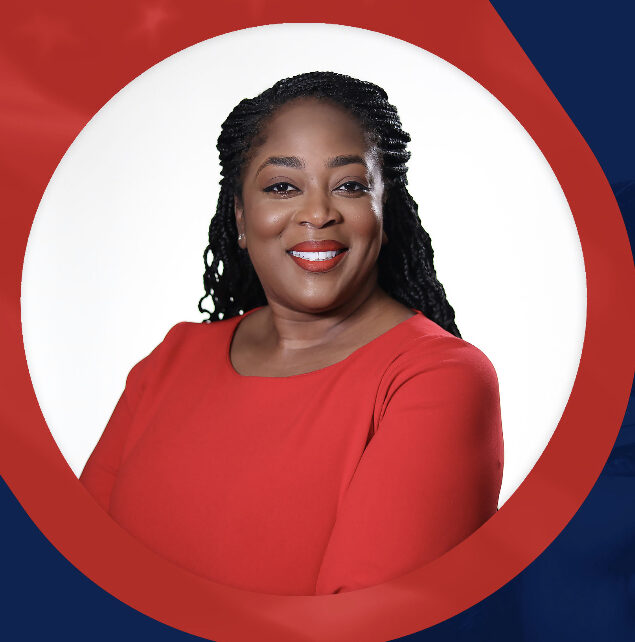 Name
Running for:
Previous political experience (Have you ever run for office or staffed for an officeholder? Have you ever been an active member of another party or worked on any campaigns?) If "Yes", please list and describe your prior political campaign experiences, including candidate/issue, date, location, role and impact.

Candidate in the 2017 City of Forest Park Mayoral race. Sworn in 2018.

Previous community experience

Feeding the homeless (2004-2012) and mentoring young ladies (2007-present)

Campaign website
Campaign Facebook Link
Campaign Twitter Link
Campaign Instagram Link
List three reasons why Democrats in Clayton County should vote for you.

After serving in this role for the last four years, I have the discipline needed to continue the momentum generated.
After serving in this role for the last four years, I have the experience needed to continue the momentum generated.
After serving in this role for the last four years, I have the vision needed to continue the momentum generated.

What do you aim to achieve by running for office?

Forest Park is on the cusp of a resurgence like no other. It is my desire to continue the momentum of PROGRESS generated over the last four years, truly enhance the lives of all Forest Parkers and be an advocate for all. I would like to restore moral dignity and integrity to elected office.

Is there any area of government that you would vote to expand in any way? If so, please list and describe.

As a Mayor I only vote in the event of a tie however I would support giving our employees a livable wage and establishing a Code of Conduct for elected officials.

Would you support expanding nondiscrimination protections for your city's residents in public employment, private employment, public accommodations and housing to include sexual orientation, gender identity, creed, domestic relationship status, parental status, familial status, veteran status and hair style or texture?
Do you support ending single-family zoning to allow for more diverse housing options?
What incentives would you offer businesses to come to your city?

Our incentives are not a one size fit all. We tailor our incentives based on several factors including but not limited to: the type of industry, total investment, salary, number of jobs etc. If the information aligns with our vision then we will customize an incentive package from there.

What solutions would you bring to your intended position to 1) mitigate contributions to climate change in housing and transportation 2) increase flexibility and security in response to climate change and 3) diversity transportation options for your residents? *

We have companies that are in Forest Park that are energy efficient however, I believe there is more we can do as a City to encourage more businesses and future residential investors to "go green" or LEAD certification. We do have a company that have committed to replacing their delivery vehicles to electric vehicles in the next few years.

As someone elected to your position in city government, you will be able to appoint or influence appointments of persons to various city boards. How will you ensure that you're selecting the right individual?

I supported our current City Manager, Dr. Cooper's push to have those who wish board appointments to submit a resume or biography. Some have mocked this request or even refused to submit their resume or biography because they are not "applying for a job" however it is critical to acquire as more information on potential appointees because those selected are making decisions on behalf of the City.

What is your position with regard to zoning changes within your city or district/post (with regard to logistic centers, retail development, housing, or other commercial develop)?

In 2021 the City of Forest Park updated our outdated zoning codes of ordinances. Some of which have not been updated since1959.

What is your stance on minimum parking requirements? Would you work to eliminate such requirements to reduce stress on climate, space use and property cost?

While I understand minimum parking requirements can be a concern I would look at focusing on securing alternative modes of transportation to and from our venues, such as carpooling, bike lanes, public transportation. This is why my Administration has committed to working with expanding public transit not only in Forest Park but also the County.

What is your stance on decriminalizing jaywalking and removing or reducing police from low-level traffic enforcement, given that a growing body of research has called for removing police from traffic enforcement due to the high level of unnecessarily adverse interactions between civilians and police? If not, why?

I am a proponent of public safety and police services. While some may want to limit police interaction, I believe there are positive police interactions and community policing that are key factors to help reduce crime and increase positive public perceptions in our communities.

Current Georgia law requires that all bicycles must come to a complete stop at stop signs and red lights. Would you support this law being changed in order to allow cities like yours to adopt the "Idaho stop", in which bicycles are allowed to treat stop signs as yield signals, as is currently allowed in 9 states? If not, why?

For the safety of the biker and motorists the density in Forest Park would not support this.

What is your stance on raising the minimum wage to $15 or more?

Absolutely. In the Second Annual State of the City Address held on Oct. 13, 2021, I encouraged the City Council to conduct a second Wage and Compensation and ensure our employees earn a livable wage with $15 at a starting point. When we did the numbers in order for someone to rent a standard 2 bedroom apartment at three times the rent they would need to make $19 an hour. It is my goal to see our employees get to that mark. More so, when a company attempted to come to Gillem their initial starting wage was $17/hr however as it progressed they attempted to lower it to $10/hr. Once discovered, we withdrew all incentives and moved in another direction.

Do you support decriminalizing cannabis possession within city limits?

The City of Forest Park already decriminalized cannabis of less than one ounce years ago.

What solutions would you introduce or support to increase housing supply and reduce cost of living in your city?

The City of Forest Park has some of the most affordable housing in Clayton County. A reduction in cost of living would be counterproductive to our efforts of increasing residential ownership in Forest Park.

How will you promote restorative justice and address abusive and racist practices by the police force?

As stated in the Second Annual State of the City Address, we have our second Restorative Justice Summit planned for the upcoming months. I would address any racist practices head on and will not be afraid to address racist behavior regadless if you are elected, sworn or civilian.

Please submit a short biography

Biography: Angelyne Butler, MPA
Angelyne Butler dreamed of becoming a dentist when she was a child. She loved reading books, was a daddy's girl and grew up on a military installation, her father presided over that was structured and disciplined. She graduated high school early and started a dental program at 19 until she discovered she wanted to enter into politics. She eventually withdrew from the dental program and enrolled in community college. While at Fort Lewis Army base in Washington state, she would observe her father, a Command Sergeant make tough decisions that at times brought a negative backlash, but she observed that he never wavered in the face of difficulty, maintaining his integrity while leading others. These early lessons would shape the foundation for her future when she became a teen mother faced with difficult decisions as she chartered a path into adulthood. Remaining focused through difficult times helped her make a decision to pack up and travel thousands of miles away to attend Spelman College, one of the nation's most prestigious Historically Black Colleges and Universities where she majored in Political Science earning a Bachelor's degree in 2007. She continued her studies earning a Master of Public Administration from Troy University in 2010 and is currently pursuing a PhD in Theology.
SERVANT LEADERSHIP: She knew early on her life would be focused on service and leadership. Shortly after matriculating through Spelman, Angelyne began working in government. She gained experience in administrative, electoral, judicial and recreational areas of government over the past decade working in parks and recreation, municipal courts and county elections offices. In 2017 she began work in the public sector for a Fortune 500 insurance firm developing managerial and entrepreneurial skills in account servicing while honing people skills. Her role required her to interface with people in a way that allowed her to observe how a lack of growth, development and leadership impacted their lives. She realized that a high unemployment rate coupled with a low median household income and limited housing options became a deterrent to growth in her community. She could no longer remain on the sideline complaining but realized had to become an agent of change.
This is where valuable life lessons began to kick in. She remembered to always maintain integrity and that a person's commentary of you is often a reflection of themselves. She learned to become a visionary recognizing that a true servant leader is one who puts the needs of the greater good before their own. Angelyne found a new home and an opportunity to grow when she moved to the City of Forest Park, a place where she could establish a home for her family in a 9.5 square miles community of approximately 20,000 residents. The city included more than 70 acres of scenic walking trails along with several parks and playgrounds including Fort Gillem and the Atlanta State Farmer's Market with Hartsfield Jackson Atlanta International Airport nearby. Her life reached a new turning point when on Jan 2, 2018, Judge Barbara Caldwell swore her in as the 24th Mayor of the City of Forest Park, the largest City in Clayton County. She became the first person of color to hold this prestigious seat but serving the residents with respect and dignity is and will always be her goal.
PUBLIC SERVICE: As Mayor, Angelyne has continued to operate with integrity. Forest Park has an annual budget of approximately $25M with around 260 employees. She inherited a $15 million dollar debt she initially had no idea how to tackle. In her first term she repaid the entire inherited debt bringing to fruition long-standing and outstanding capital improvement projects other administrations only talked about. She got to work not only improving the delivery of services but working to streamline processes. She created weekly City Manager luncheons to foster open lines of communication and worked to maintain an inclusive environment where all opinions mattered. She centralized the procurement process, hired the first Economic Development Director while establishing "Ward Funds" allowing each councilmember to slate monies for projects in their respective wards. Under her leadership in 2019 Forest Park was named the best place to invest. She is the architect of "Downtown Table Talk", commissioned and executed a Job Classification Wage and Compensation Study and helped establish a production studio for high quality media outreach.
Since assuming office, she has launched PROGRESS (Political Restoration, Opportunity and Growth for Residential, Economic and Social Success). In less than three years her administration ushered in just over 3000 jobs with a projection of an additional 1500 jobs to come with an average salary of $55,000. Under her leadership she enhanced residential opportunities by way of a $300,000 townhome development. The Starr Park Master Plan and other capital improvement projects had been a topic of discussion in Forest Park for years. She created a solid plan for the proper execution of these projects and will oversee more by way of a $51M Truist partnership and investment initiative with the City of Forest Park. Other accomplishments include:

Ft. Gillem redevelopment is in the top two for rapid base redevelopment;
Generated 2000 new jobs in two years with an additional 1500 projection in by 2021;
Hosted the 2019 Inaugural Record Restriction Summit;
Increase municipal budget by $60m over the next 20 years;
Instrumental in bringing three major corporations and four fortune 500 companies to Fort Gillem;
Intentional City-wide rebranding efforts;
Intentionally selected residential developers to discuss the residential needs of the city;
Introduced three Sister City relationships;
Introduced the idea of a city-wide Communications Department;
Negotiate multi-million-dollar contractual agreements for international and domestic businesses;
Synchronized COVID-19 efforts to address resident and business needs.

Angelyne is a proud parent whose daughter graduated high school, undergrad and graduate school with honors serving in the U.S. Air Force Reserves becoming a four-time National Rugby Champion and has consistently remained on the President's/Dean's list or Honor Roll during her matriculation process. She is currently pursuing her pilot's license.
Professional Affiliations

African American Mayor Association
Aerotropolis Atlanta Alliance Member
DDA Chairwoman City of Forest Park
URA Chairwoman City of Forest Park
Clayton County Board of Health Board Member
Clayton County Chamber of Commerce Member
Clayton County Community Services Agency Board Member
Forest Park Retirement Board Chairwoman
Georgia Municipal Association Black Caucus, Secretary
Georgia Municipal Association Member
International City/County Management Association
Motherless Daughter Foundation Honorary Board Member, Clayton County Chapter

Awards & Honors

2020 Youth Empowerment Summit Keynote Speaker
2020 Mayor of the Year, Atlanta Business Chronical and the Georgia Minority Association
2020 National Women's History Month Award
2019 Public Servant of the Year Nominee, RICE Awards
2019 and 2018 100 Influential Women in Atlanta

Please fill out a campaign statement (less than 200 words)

PROGRESS with purpose is our destiny and our goal. PROGRESSS stands for Political Restoration, Opportunity and Growth for Residential, Economic and Social Success. While each pillar can stand alone PROGRESS can only be achieved when they operate in unison.